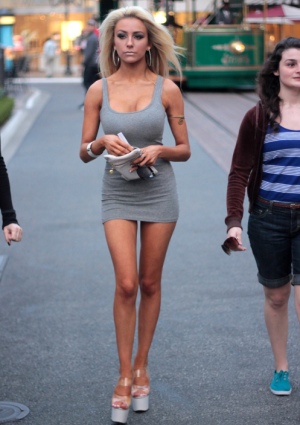 The most famous child bride Courtney Stodden made brows raise and jaws drop, when she married Doug Hutchinson. She got a lot of media publicity for her outrageously hideous and skanky style.
What made her think Stripper Shoes are great for everyday wear!
Even though she raised eye brows for her risque outfits and drag queen makeup, Court seemed more than happy with herself for all the attention she got.
But Courtney has had a change of heart, she got a fresh new makeover, and looks her age.
Just look at the difference!
Courtney got rid of her gross orange tan, and lightened up her locks. She even brightened up her face with some great new makeup, she looks deliciously sun kissed and surprisingly BEAUTIFUL!
Many have blamed Plastic surgery for Courts gorgeous new face, but you be the judge of that!
Unfortunately Court still lacks in the style department, if she can just hire the Kardashian stylists or some other HIGH END celebrity stylist that styles Emma Stone, Victoria Justice, Selena Gomez or Miley Cyrus, this girl may have a chance.
Hopefully Courtney doesn't go back to her bizarre antics and awkward tweets! She looks great and she needs to really rethink her fame whoring strategies.