Hugo, by the design house of Hugo Boss, is a classic and fresh cologne choice for him. This fresh water fougere fragrance blends crisp green apple, mint, pine needles and grapefruit with soft basil and lavender and deep sage, patchouli, vetiver and masculine suede accords. A bright, pure and refreshing cologne. Launched in 1995.
Notes Top Note: Green Apple, Mint, Lavender, Grapefruit Middle Note: Clove, Clary Sage, Geranium Leaves Base Note: Pine Needles, Vetiver, Patchouli, Moss
Adidas Moves original fragrance and perfume by Coty, Launched in 1999, Adidas Moves by the design house of Adidas received a prestigious FiFi award in 2000. This refreshing scent is sweet and spicy. The top notes are Green Apple, Tomato Leaf, Parsley, Black Pepper, Anise, Spearmint, Peppermint, Pineapple, Mandarine. The middle notes: Ginger, Ginger Ale Accord, Cedarwood, Lavender, Jasmine, Juniper, Geranium, Musk. The base notes are Sandalwood, Thyme, Oakmoss, Muguet.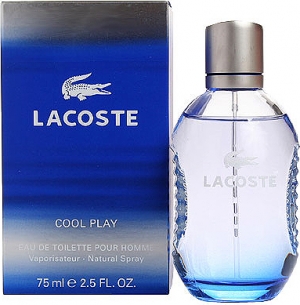 Cool Play
by
Lacoste
is a Woody Floral Musk fragrance for men.
Cool Play
was launched in 2006. Top notes are coriander, birch leaf, mandarin orange and bergamot; middle notes are juniper berries, violet, pepper and cedar; base notes are sandalwood, amber, patchouli, musk, vanilla and vetiver.
The confidence of masculinity, the celebration of talent, the intimacy of David Beckham. Intimately Beckham. The fragrance projects the edgy, sexy side of David. A modern woody-spicy accord radiating warmth and sensuality. A heady mix of energy, vibrancy, comfort and warmth. Magnetic, provocative, cool - yet never aloof, he is aspirational but within reach.